Cellphones Are Injuring Us in Unimaginable Ways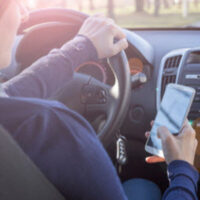 We've been reminded of the dangers that can come about from using a cell phone while one is driving, or trying to walk, text, and cross the street. According to the National Safety Council, close to 3,000 people died in distracted-related accidents last year, and according to the Governors Highway Safety Association, there were more than 6,000 pedestrian deaths as well.
However, a new study has now revealed that cellphones are not only leading to car and pedestrian accidents, but also causing head and neck injuries, damage to upper backs, bruises, concussions, facial cuts, and fractures, as well as serious repetitive strain injuries and injuries to internal organs; most frequently in young people between the ages of 13 and 29. And while these injuries may seem minor, in fact, the study indicated that there could be long-term consequences associated with them; consequences such as anxiety and lower self-esteem that can come about from facial lacerations and scarring; all of which should be taken into account when it comes to accidents and determining harm and damages that result from them.
Thousands of Emergency Room Visits
According to experts, for every inch that you tilt your head forward to use your phone, the pressure on your spine doubles. For example, just looking at your phone in your lap essentially causes your neck to experience 20 to 30 pounds of pressure. This, in turn, places strain on your spine and can cause it to fall out of alignment. Some doctors have likened it to bending your finger back all the way and holding it in that position for one hour. As a result, more than 2,500 people were admitted to emergency rooms for head and neck injuries linked to cell phone use between 1998 and 2017, with a national total of more than 76,000 people.
In addition, children under age 13 were much more likely to suffer from mechanical injuries, such as cell phone batteries exploding or getting hit by a cellphone and taking selfies has also introduced a whole new category of danger. According to one report, there were close to 260 deaths just related to taking selfies, globally. Researchers have also estimated that a number of people were also hurt while playing Pokémon Go.
If You Have Been Injured in Rhode Island, speak with A Personal Injury Attorney to Discuss Your Options
If you have been harmed by negligence here in Rhode Island, speak with a Providence distracted driving lawyer at the Kiselica Law Firm today. If you are suffering from injuries related to overuse of your phone, and it is connected with your job, for example, you may be able to make a case to recover compensation. Our office provides free, no-obligation consultations so that you are aware of your options before you move forward with anything.
Resources:
thedailybeast.com/cellphone-related-injuries-spike-pokemon-go-a-culprit
nextgov.com/cio-briefing/2019/12/phone-distraction-injuries-spiked-pokemon-go-launch/161740/
cnn.com/2019/12/05/health/cell-phone-injury-increase-texting-wellness/index.html
abc7.com/health/cellphone-injuries-on-the-rise-especially-among-youth-data-shows/5792839/
cnn.com/2019/12/05/health/cell-phone-injury-increase-texting-wellness/index.html