Medical Malpractice Lawsuits Related to Cannabis Potentially On the Horizon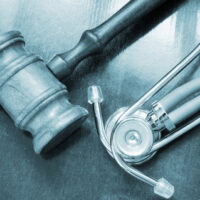 Although it has not yet occurred, there is no question that a medical malpractice lawsuit related to cannabis is in the near future. This includes in states such as Rhode Island, where patients are allowed to purchase marijuana products from state-licensed dispensaries known as "compassion centers." This is due, in part, to the fact that medical marijuana patients are asking a number of questions of and relying upon the expert advice that comes from whomever is working in these dispensaries, and they often do not have any medical certification or training. In addition, some facilities are not only enabling patients to use medical marijuana on the premises, but actively managing its use, which could open those facilities up to malpractice lawsuits, as we discuss below:
Medical Marijuana Patients Entering Hospitals
Although hospitals do not yet dispense medical marijuana, they still face a certain amount of risk of liability when it comes to medical marijuana patients entering their facilities. For example, if a patient enters an emergency room and informs medical personnel there that they have legally used medical marijuana pursuant to state law, this places hospital staff in a predicament in terms of administering any medical marijuana the patient has for a given condition, especially given the fact that while it may be legal for the patient to use pursuant to state law, it is still technically illegal under federal law, even if it is used for medical purposes, with a prescription. Medical providers also have to ensure that every detail is kept in the patient's record—including any use of medical marijuana—or else potentially face a medical malpractice lawsuit connected to be incomplete in their records (which can affect future treatments of the patient, etc.).
Its Use in Long-Term Care Facilities & Nursing Homes
Medical marijuana is also relevant to long-term care facilities, including nursing homes, because a number of patients and residents there suffer from chronic pain. While some patients are likely using the drug under the radar, some facilities have made an active decision to "put it on the radar" and create policies and procedures so as to ensure that they can manage its use on the premises. For example, some of these policies mandate that the drug be self-administered or administered by a caregiver, kept in a lockbox, etc. Some facilities even allow local dispensaries to deliver medical marijuana to the patient on the premises. In these circumstances, there is no question that the facility is facilitating the use of medical marijuana on its premises.
Contact Rhode Island Medical Malpractice Attorney with Any Questions
Providence medical malpractice attorney Michael Kiselica has over 40 years of experience helping victims recover compensation if they have been harmed by a medical professional and/or facility, regardless of the drug, circumstances, condition, or other details. Contact the Kiselica Law Firm today if you have concerns that you or a loved one has been the victim of malpractice.
Resource:
businessinsurance.com/article/20191025/NEWS06/912331350/State-cannabis-laws-present-medical-malpractice-conundrum