The Many Factors That Have Turned Pedestrian Collisions into A "Health Epidemic"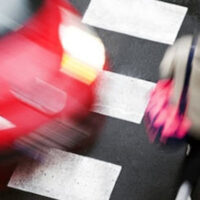 The growing pedestrian safety crisis is now being referred to as "health epidemic" given that, according to the National Highway Traffic Safety Administration, the number of pedestrians killed by cars hit an all-time high in 2018; up almost 50 percent since 2010, reflecting a "systematic" problem as opposed to poor individual decision-making or random tragic accidents on the road. Experts have now attempted to explain the phenomenon by focusing on several main causes, which we discuss below: The automotive industry, "car culture" (which they argue creates dangerous road conditions for both pedestrians and cyclists), and America's poor road infrastructure.
Treated as A Nuisance in Intersections Where They Have the Right of Way
In most states, including Rhode Island, vehicles must yield the right of way to pedestrians in crosswalks, including in intersections, even if the intersection is unmarked. Yet intersections are where pedestrians are at their highest risk of being hit, where they are treated as a "nuisance."
SUVs, Which Are Becoming More Popular, Are More Likely to Kill Pedestrians in Collisions Than Sedans
More and more people are also purchasing SUVs instead of compact cars, which have a higher capacity to kill pedestrians when collisions occur because SUVs are more likely to hit a pedestrian in the torso, where their vital organs are located, as opposed to their legs. According to one study, SUV accidents led to approximately 110 deaths per 1,000 accidents compared to 45 deaths linked to sedan accidents.
Distracted Driving Is Still a Huge Problem
In addition, regardless of the significant amount of outreach concerning the dangers of distracted driving, almost 90 percent of smartphone users are still handling their devices in one way or another while they drive.
Speeding & Time to Cross the Road
Speeding is another factor: The risk of a pedestrian dying in a collision goes up from less than five percent to 65 percent when a vehicle is traveling 40 miles per hour (mph) or more versus 20 mph. Reducing pedestrian deaths requires not only improvements in road design, where lights provide more time for pedestrians to cross the road, but the installation of additional speed cameras and the implementation of reduced speed limits.
Minorities Face Greater Risks in Part Due to Drivers' Racism
Researchers have also found that Black, Hispanic, and Native American pedestrians are more at risk of being hit as pedestrians compared to Caucasians, and hypothesize that this is due to a combination of factors, including these groups being more likely to be traveling on foot, taking mass transit, and walking in areas where there are more cars traveling at greater speeds. The risk of being hit is especially high in areas where the street lights are out. In addition, those same studies indicate that drivers are also less likely to stop for Black, Hispanic, and Native American pedestrians who are attempting to cross the road without stop signs or traffic lights than they are for Caucasians.
How We View Fault
Finally, experts claim that it is a matter of semantics when it comes to news reporting: When journalists refer to incidents where pedestrians are struck by a car as "accidents" instead of "collisions," the public is more likely to blame the pedestrian instead of the driver.
If You or A Loved One Have Been Hit by Car in Rhode Island, Contact Providence Pedestrian Lawyer Michael Kiselica Today
Providence pedestrian injury attorney Michael Kiselica holds negligent drivers accountable for any harm caused to pedestrians and their families due to the driver's negligence, including for the most serious injuries, as well as wrongful death. If you or a loved one has any questions or concerns about an incident that occurred here in Rhode Island, contact our office today for a free consultation and find out more about your options.
Resources:
iihs.org/topics/fatality-statistics/detail/passenger-vehicle-occupants
usatoday.com/story/money/cars/2020/09/17/pedestrian-safety-crisis-right-of-way-book-angie-schmitt/5807237002/
nhtsa.gov/road-safety/pedestrian-safety