Contaminated, Carcinogenic Chemicals Found in Dangerous Amounts at Providence, RI Construction Site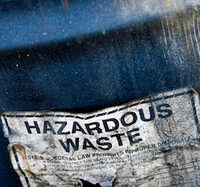 On September 7, the Providence Police FOP and Rhode Island State Police Troopers Association cancelled construction work on the 6/10 Interchange site – one of the state's largest infrastructure projects – over concerns regarding the presence of contaminated soil containing carcinogenic chemicals that have produced tumors in experimental animals, and could not only harm those working on the construction site, but nearby communities as well. There are reportedly a number of businesses, homes, and schools located close to the site.
The chemicals identified in independent lab tests include Benzo(a)pyrene and Dibenzo(a,h)anthracene, which have been described as "highly genotoxic, mutagenic, and carcinogenic." Benzo(a)pyrene in particular can also cause burning, bronchitis, skin color changes, rashes and warts. The tests indicated that these chemicals were found in amounts that were more than double to four times the acceptable limits.
Barletta Engineering/Heavy Division Reportedly Trucked Soil in from Other Sites to Dump
These same reports also indicate that more than 4,000 tons of the hazardous material was trucked into Rhode Island, and fails to meet basic commercial/industrial standards for land application or re-use. They also report that one of the construction firms doing work at the site, Barletta Engineering/Heavy Division, is responsible for bringing in the contaminated soil in order to improperly dispose of it from another project site in Massachusetts.
Incidentally, Barletta Engineering is also the lead contractor on Rhode Island's Pawtucket/Central Falls Commuter Rail Station and Bus Hub, which is being built on an existing Rhode Island Department of Environmental Management's CERCLA contaminated site. According to these same reports, one of the workers at the Pawtucket site reported drivers taking materials from that contaminated site to also be dumped as fill at the 6/10 project site.
Barletta Reportedly Ignored Tests & Concerns; Did RIDOT Ignore as Well?
Concerns over the contaminated soil and the harm that it posed were initially raised by officials in the International Union of Operating Engineers, who conducted independent testing through RI Analytical of the site and warned the company about the presence of these chemicals, reporting that they did nothing in response. The Rhode Island Department of Transportation (RIDOT) was also reportedly contacted about the issue and repeatedly rebuffed the union's claims. As a result, there are now concerns that the State of Rhode Island may have known about these thousands of tons of hazardous waste being trucked in from Massachusetts to be dumped in Providence for use on the construction project in close proximity to businesses, homes, and schools.
RIDOT has released statements indicating that the soil management plan for the 6/10 site has been handled by Aecom, which also had the soil analyzed and indicated that it "falls within the parameter set out in the soil management plan."
If You Need Help After Someone Has Been Harmed at A Construction Site, Contact Rhode Island Injury Lawyer Michael Kiselica Today
Property owners and developers have an obligation to ensure that they do not engage in negligence like this that could cause harm to people who work on these sites and live nearby. If you or a loved one has suffered due to negligence here in Rhode Island, contact Providence personal injury attorney Michael Kiselica, who has helped countless injury victims get the compensation and care they need after obtaining injuries associated with these sites.
Resource:
golocalprov.com/news/EXCLUSIVE-Union-Official-Says-RIDOT-Allows-Contractor-to-Illegally-Dump-Co
https://www.klflaw.com/addressing-work-injuries-during-covid-19-including-those-suffered-by-teleworkers/