Recent Data Shows an Increase in Distracted Driving from Truck Drivers, Car Accidents, And Catastrophic Injuries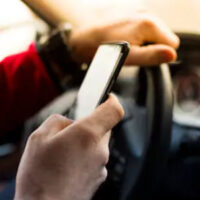 Recent data from ELD and fleet management technology has revealed that, during the pandemic, truck drivers have been engaging in an increased amount of distracted driving and speeding on the roads. This includes a 20 percent increase in speeding events that involved trucks going more than 11 miles per hour over the speed limit. Those in the industry have indicated that the increase in distracted driving is likely due to communication styles shifting during the pandemic, leading to an increase in phone activity due to fewer face-to-face interactions.
In addition, according to a new report released by the National Council on Compensation Insurance, all workers' compensation claims have been on a decline except for those caused by car accidents, which have been on a steady increase since 2011, when the Apple iPhone was released. While there is no direct proof that smartphones are the cause of the increase in accident claims, the correlation speaks for itself.
The Pandemic Changes Business & Personal Communications for Truck Drivers
Specifically, the following increase in texting and calling drivers, as well as drivers accessing apps, has occurred during the pandemic, contributing to distracted driving:
A more than 26 percent increase in the number of inbound texts
A 26.5 percent increase in the number of times drivers attempted to access apps on their phones
A more than 30 percent increase in the number of inbound calls
Car Accident Claims & Catastrophic Injuries Soar Every Year Since the Apple iPhone Enters Market
According to the study, out of all the dangerous jobs, driving is the most dangerous of all, and this could very well be due to the release of the Apple iPhone in 2011. These accidents also often involve catastrophic injuries, such as those involving the head, neck, and spine. Since smartphones entered the market, the frequency of workers' compensation claims caused by car accidents climbed almost five percent above 2011 levels, while claims for all other causes decreased by more than 20 percent. Still, experts are hopeful that smartphones will reach a saturation point and, as a result, the number of car accidents will start to level off. In addition, both the Insurance Institute for Highway Safety and the National Highway Traffic Safety Administration had faith that driver-assistance features, such as automatic braking, will help to reduce accidents.
Contact The Best in Rhode Island Personal Injury Law
If you or a loved one has been the victim in an accident, know that we are here to advocate for your rights and ensure that you receive the compensation you need to start to recover. As your Providence personal injury attorney, I am dedicated to aggressively representing your rights in your case. Contact the Kiselica Law Firm today to find out more.
Resources:
claimsjournal.com/news/national/2020/06/25/297871.htm
ccjdigital.com/pandemic-increases-distracted-driving-truck-drivers/
ncci.com/Articles/Pages/Insights_MVA_WC-Update.aspx
https://www.klflaw.com/almost-70-percent-of-all-rhode-island-covid-19-deaths-occurred-in-nursing-homes-your-right-to-seek-legal-action/