Vaping Illnesses and Deaths in Rhode Island & Elsewhere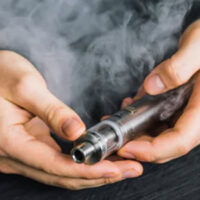 There is a new deadly illness that no one saw coming, especially those who were seeking the safer alternative to smoking tobacco that a number of manufacturers promised via vaping or "e-cigarettes." According to the Food and Drug Administration and the Centers for Disease Control, there have been at least 450 cases of vape-related illnesses just in the last two and a half months; most of them linked to severe lung illnesses. Some of the consequences of using these products have included medically-induced comas, heart problems, back pain, kidney problems, pneumonia, acute respiratory distress syndrome, irreparable lung damage, and more. And, unfortunately, Rhode Island is no exception: According to some surveys, one in five teenagers reported using vaping products here in the state.
Investigators Suspect Vitamin E Oil & Chemical Exposure
Some health officials now believe that one of the major problems is the presence of high levels of vitamin E acetate in vaping products that contain cannabis which, when inhaled, because it has oil-like properties, can cause problems in the lungs. However, with a number of cases, they also suspect that some type of chemical exposure is also associated with some of the illnesses that have developed. Those chemicals linked to a number of e-liquids include diacetyl and 2,3-pentanedione; even in products that are sometimes advertised as diacetyl-free. Patients have reported using the vaping devices with nicotine, THC, or both, for at least three months before they got sick. Amongst the 450 possible cases of severe lung disease, there are currently a reported four deaths being investigated.
The deterioration appears to happen quickly, as well: One parent described his teenager as going from being able to do 30 pull-ups one day to being intubated two days later.
Litigation
According to reports, a number of lawsuits concerning the debilitating physical and psychological effects of vaping have already been filed and include allegations linked to severe addiction, respiratory illnesses, and even seizures. Some of the companies named include Altria, Juul Labs, and Philip Morris under negligence claims linked to design defects, failure to warn, marketing, and others. A number of the complaints allege that the plaintiffs' injuries are entirely due to defendants' efforts to "addict a new generation of teenagers and young adults to nicotine," where plaintiffs argue that these products have been "pushed" in spite of their potential to injure using tactics similar to what tobacco companies used years ago to push cigarette use.
Contact Our Providence, Rhode Island Injury Attorneys with Any Questions
If you have experienced any injuries such as breathing difficulties, chest pain, shortness of breath, or others, and you suspect that it is due to negligence on the part of someone else or a product/manufacturer, contact our experienced Providence catastrophic injuries attorneys at the Kiselica Law Firm today to find out how we can help get you on track to take action.
Resources:
turnto10.com/news/local/ri-health-officials-keeping-close-watch-on-vaping-related-illnesses-nationwide
usatoday.com/story/news/health/2019/08/29/vapes-may-have-caused-young-ex-athletes-severe-lung-injuries/2151655001/
wqad.com/2019/09/06/third-vaping-related-death-reported-in-indiana-after-possible-link-found-between-vaping-and-serious-lung-illnesses/