According to New Study, Drivers Running Red Lights Are Killing Pedestrians at The Highest Rate in 10 Years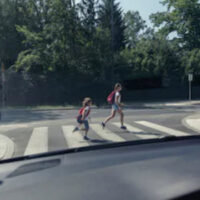 According to a new study from AAA, the number of pedestrians killed by drivers running red lights is now at a 10 year high. In 2017, close to 1,000 people were killed in connection with this violation, which represents the highest death toll since 2008 and an almost 30 percent increase since 2012.
According to AAA, two people are killed every day in the United States because a driver did not stop at a red light and almost 30 percent of all crash deaths at intersections with signals occur because a driver runs a red light. In addition, close to 50 percent of those killed in these crashes were passengers or those in other vehicles; in addition to the drivers, pedestrians, and cyclists nearby.
Why Is This Happening, And What Can We Do to Prevent It?
The experts hypothesize that this phenomenon isn't necessarily due to more people driving more miles in 2019, but due to distracted driving, as well as traffic lights that perhaps are not timed right and yellow lights that do not last long enough. They recommend that the following actions be taken to help save lives:
Increase the number of red light cameras directly supervised by authorities – as well as adding more efforts to notify drivers that the cameras are being used – to increase enforcement. A significant percentage of drivers surveyed indicated that they had blown through a red light within the last 30 days and they think it is unlikely that they will ever be stopped by a police officer for doing so;
Drivers prepare to stop and tap their brakes while entering intersections and approaching lights in order to warn other drivers;
Drivers keep an eye out for "stale" green lights; i.e. those that have been green for some time and are therefore likely to turn yellow soon (and, as a result, signal that drivers need to slow down);
Drivers wait after the light changes green before proceeding and checking to make sure crossing traffic has passed; and
Cyclists and pedestrians wait to make sure traffic is stopped before crossing the street, as well as stay alert while walking, keep to well-lit areas, and regularly make eye contact with drivers.
If You or A Loved One Has Been Harmed by A Negligent Driver, Contact Our Rhode Island Personal Injury & Wrongful Death Attorneys
Every day, people are seriously harmed or killed by people behaving recklessly. If you or a loved one has been harmed as the result of an accident, contact our experienced Providence personal injury attorneys at the Kiselica Law Firm today to find out how we can help you obtain justice. We understand the impacts that reckless behavior – and accidents – can have on you, your family, and your future.
Resources:
businessinsider.com/deaths-caused-by-drivers-running-red-lights-at-10-year-high-2019-8
newsroom.aaa.com/2019/08/red-light-running-deaths-hit-10-year-high/
https://www.klflaw.com/injuries-are-now-the-biggest-threat-to-children-worldwide/