RI Trucking Assoc. Names Kiselica Chairman, Adds New Members to Board of Directors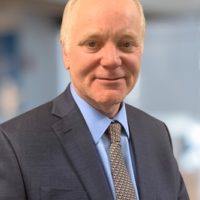 Thursday, January 23, 2020
The Rhode Island Trucking Association (RITA) has named Providence attorney Michael Kiselica as Chairman of its Board of Directors.
RITA  four new members to its Board of Directors.
Those include Debora Babin Katz of TrucBrush, Angela Stone of Palfinger Liftgate, Claire Viera of Consolidated Truck Equipment and Katie Werchadlo of J Line Transportation.
"We proudly welcome Chairman Kiselica and our four newest Board members as we embrace the 'stronger gender' and its contributions to delivering Rhode Island and moving America," said RITA President Chris Maxwell.
RITA was the first trucking association in the American Trucking Association's federation to be led by a woman – Lena Daly from 1960 to 1961.
"Women are an integral part of what drives our industry. Our new Board members bring strength, an array of industry knowledge and much-needed diversity to our association and Board and pay homage to the great history of female leadership of RITA," said Kiselica.
Today, eight state Trucking Associations have women serving as their Presidents.
About Kiselica
Kiselica passed the California Bar Exam in 1979 and took a job with a personal injury firm in Beverly Hills.
Kiselica moved to Rhode Island in 1980 and passed the Bar Exam there.
He founded his own practice, Kiselica Law Firm to help accident victims and their families.
According to his bio, Kiselica has had more than 75-100 jury trials in the State and Federal Courts.
Source – https://www.golocalprov.com/news/RI-Trucking-Assoc.-Names-Kiselica-Chairman-Adds-New-Members-to-Board-of-Di