A Move in The Right Direction Towards Paving the Way for Military Medical Malpractice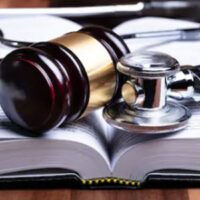 For years, military members have been denied the same right to bring a claim for medical malpractice that every other citizen has due to what's known as the Feres Doctrine, which prohibits negligence claims by active duty military personnel against the government, which runs the hospitals that end up injuring or killing some of these military personnel. The logic behind this doctrine, which came out of several federal cases in 1950 out of the U.S. Supreme Court, is that the government enjoys a certain amount of sovereign immunity.
A number of families have experienced severe tragedy without any hope of justice as a result, including those whose wives and mothers died in childbirth in army medical hospitals and similar facilities due to mistakes made by doctors that are made every day in other hospitals for which injured victims and their families can bring litigation over. This is especially frustrating given that these individuals who serve our country essentially have no other choice than to receive care at these facilities.
Sfc. Richard Stayskal Military Accountability Act
As a result, many military members and their families have been pushing for legislative change, including Sgt. 1st Class Richard Stayskal, whose lung cancer was misdiagnosed as pneumonia, and who never received a biopsy. As a result, his lung cancer is now stage 4 terminal. Stayskal worked to help introduce the "Sfc. Richard Stayskal Military Accountability Act" earlier this year, which proposed allowing troops to sue the government for medical malpractice.
A Compromise in National Defense Spending Bill
While the Act has not yet passed, in December, the House passed a bipartisan compromise that would reportedly provide some recompense via the National Defense Authorization Act. Specifically, it would pay out military medical malpractice claims that occur after January 2017 and provide for the Department of Defense to conduct investigations and pay out additional claims internally, with $400 million allocated for this purpose over the next decade. As a result, troops would, for the first time, be compensated for negligent medical practices at military hospitals, and their claims would not have to be connected to combat or training in order to do so.
The Senate is expected to pass it soon as well, technically meaning that it could effectively become law by the holidays. However, soldiers still would not be allowed to file litigation against the government, and some do have concerns about providing the Department of Defense with discretion in terms of investigating and paying out its own claims. The devil will inevitably be in the details; i.e. in the regulations that the Department drafts which lay out how the new requirements will operate.
Exceptions
It is also important to know that there have always been exceptions to the Feres Doctrine, including injured or killed family members, children, and spouses being able to sue the government for tort claims. Service members can also file on their child's behalf and as well as make a wrongful death claim for the loss of their companion. In addition, courts have, in some circumstances, found that, where civilians could have been harmed under the same circumstances under which the service member was injured, active duty members can sue.
Contact an Experienced Rhode Island Medical Malpractice Attorney to Find Out More
Providence medical malpractice attorney Michael Kiselica has over 40 years of experience helping victims and their families obtain justice after devastating medical mistakes and oversights here in Providence and surrounding areas. If you or a loved one has been harmed by malpractice, contact us today to set up a consultation and find out more.
Resource:
fox46charlotte.com/news/bipartisan-lawmakers-call-military-medical-malpractice-compromise-a-miracle