Rhode Island EMTs Are Misplacing Breathing Tubes Too Often, Costing People Their Lives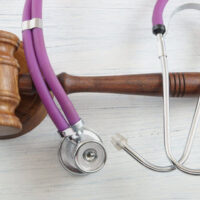 One doctor doing research on cardiac arrests in Rhode Island made a horrifying discovery that was the subject of a recent Boston Globe article. According to the hospital records analyzed, patients arriving via EMT crews routinely had misplaced breathing tubes, whereby air was sent to their stomachs instead of their lungs, resulting in suffocation. In total, the doctor found that there had been at least 11 patients who esophageal intubations that had gone unrecognized by EMS providers in just in the span of two and a half years who had died here in Rhode Island.
Many do not realize that Rhode Island is the only state in New England – and one of the only in the country –  that allows non-paramedics to intubate patients, which could very well be causing the problem. Of the 11 patients that died, eight were treated by what are known as EMT-Cardiacs, who receive less training than paramedics. However, a coalition of EMS workers and fire chiefs fought back against recommendations from doctors that the practice be limited to paramedics only in order to increase patient safety, insisting that they were the experts, not doctors. As a result, Rhode Island has not limited the practice to paramedics, and instead requires that all providers, including EMTs and paramedics, simply consider other measures before resorting to a breathing tube.
Esophageal Intubation Is A "Never Event," Meaning That It Always Falls Below Basic Standards of Care
A significant number of those who are pushing for change are emergency room doctors who treat patients when they are dropped off by emergency technicians. In the world of emergency medicine and its standards, an "unrecognized esophageal intubation" is a "never event," meaning that it should never happen under any circumstances. EMS providers are supposed to ensure that the tube has been properly positioned by listening for breathing sounds and using monitoring devices to monitor a patient's exhaled carbon dioxide levels. In addition, a bloated abdomen is a red flag that a breathing tube may be blowing air into a patient's stomach instead of their lungs. And yet, according to this one doctor's study, it happens in Rhode Island at least four percent of the time, and those connected to these events can continue to practice uninterrupted.
Serious Issues with Rhode Island's Emergency Response Practices
The article provides a window in how politics have degraded health care decisions in Rhode Island, and how difficult it is to bring change. It also highlights just where the state's 911 emergency responders are in terms of caring for patients who are suffering from cardiac arrest:  Until recently, workers at 911 call centers were not even trained on how to provide guidance on the phone on performing CPR; an issue that took a number of deaths to change.
If You Have Been Harmed by Medical Malpractice in Rhode Island, Contact an Experienced Providence Medical Malpractice Lawyer
Medical malpractice is not limited to the physician who sees you on a regular basis for your wellness checkups. In fact, medical malpractice applies to anyone in the healthcare field who causes harm by delivering care that falls below a certain standard, including nurses and EMT/EMS workers.
If you have been harmed by anyone in the healthcare field, contact a Providence medical malpractice attorney at the Kiselica Law Firm who has over 40 years of experience helping victims recover compensation after being harmed by negligence or misconduct.
Resource:
bostonglobe.com/metro/rhode-island/2019/12/03/rhode-island-ems-crews-brought-patients-hospital-with-misplaced-breathing-tubes-none-them-survived/pXfsq4pEXT0FqtEpAQ241K/story.html
https://www.klflaw.com/a-move-in-the-right-direction-towards-paving-the-way-for-military-medical-malpractice/