New Study Indicates That Children Are Especially at Risk of Dog Bites in The Eye Area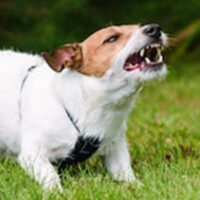 According to a new study published in the Journal of Oral and Maxillofacial Surgery, children are twice as likely as adults to be bitten by a dog in the eye area, especially infants and children four years old or younger. However, when it comes to familiar dogs at home, children were more likely to be bitten on the face, head, or neck. Children are also more likely in general to have to go to the hospital and undergo an operation as a result of being bitten by a dog. As a result, extra precautions should be taken to ensure that children are never at eye level with dogs, even if there is adult supervision and they are familiar with the dog.
The study also indicates that the most commonly injured area for both adults and children is the central target area, which covers the cheeks, lips, and nose, although children were less at risk for dog bites in this area; possibly due to dogs focusing more on the eye area and due to their body structures  (i.e. their larger head-to-body ratio and shorter height).
Why This Might Be the Case
According to the study, in addition to facing an increased risk to the eye area due to their body structures, other contributing factors are likely the overall behavior of dogs and children, dogs' instincts to attack the face, and dogs potentially viewing a child at eye level as a threat, as though the child is another dog. Researchers also pointed out that children could appear more threatening to dogs because their eyes are proportionally larger than those of adults.
These Results Should Be Used to Keep Children Safer
The results of this study – and others – should be used to help prevent and treat these injuries, especially when it comes to dog owners and homeowners who have a duty to ensure that tragedies that stem from dog bites are avoided by keeping children off the ground and at eye level with dogs, regardless of how familiar the child is with the dog and whether there is adult supervision present. Children should also avoid other potentially risky behavior with dogs such as kissing, hugging, interfering with food, playing roughly, or staring.  In addition, any medical examinations of neck and head injuries should include comprehensive evaluations of potential eye injuries.
If You or A Loved One Has Been Injured by A Dog, Contact A Providence Dog Bite Recovery Attorney
Millions of people are bitten by dogs every year, and hundreds of thousands require medical attention, including children. Sadly, some of these bites lead to deaths as well as traumatic, catastrophic injuries that can include paralysis and life-threatening infections.
If you or a loved one has been a victim of a dog bite here in Rhode Island, contact Providence dog bite lawyer Michael Kiselica to discuss your options.
Resource:
mdjonline.com/neighbor_newspapers/extra/news/joms-study-children-at-risk-for-dog-bites-in-eye/article_2ae5245f-0093-5d0e-ae44-718953f4e1c8.html