Pentagon Reveals That Service Members Suffered Traumatic Brain Injuries Due to Missile Attack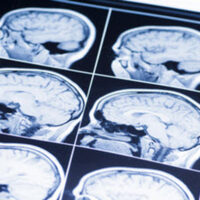 According to a statement released by the Pentagon in January, almost 40 US service members with diagnosed with traumatic brain injuries (TBIs) after the Iranian missile attack on the Al Asad Base. Despite what President Donald Trump has dismissed as less serious than physical wounds (and referring to simply as "headaches"), traumatic brain injuries are serious, and can not only include concussions, but also serious brain damage.
What Is A TBI?
According to the Centers for Disease Control, a TBI is defined as a disruption in the normal function of the brain that is usually caused by a jolt, bump, or blow. One of the most common forms is a mild TBI, caused by someone hitting their head in a car accident, or repetitive concussions, as seen in certain types of contact sports, like football.
TBIs are also on the rise in general: There were almost three million TBI-related emergency room visits, deaths, and hospitalizations that were TBI-related in 2014; up 53 percent from 2006. TBIs are not only caused by car accidents and certain types of contact sports, but severe shaking that causes the brain to move inside the skull and combat injuries in war zones. A number of NFL players have suffered from them due to experiencing repeated concussions, as well as war veterans, who can suffer from repeated TBIs due to explosions.
According to those who study TBIs, in patients with severe TBIs, the initial head trauma involves some amount of irreversible brain cell death, as well as some reversible damage, i.e. injured neurons that may be revived. As a result, medical intervention in severe cases aims to prevent traumatic loss, also known as secondary brain injury.
More Needs to Be Done to Protect Service Members
According to sources, the US military had advance warning about the missile strike such that they could move most military personnel to bunkers, however, the blast still resonated close to these areas, which resulted in a number of concussions that did not manifest until a week or so later. However, there appears to be remaining questions surrounding the issue, as the Pentagon's chief spokesman pointed out that clarity needs to be brought in terms of administrative versus medical reporting and how the US military tracks and reports all injuries.
Contact A Rhode Island TBI Attorney
TBI has the potential to lead to serious permanent injuries or even death for a victim. For legal advice related to potential claims following an accident that may involve a TBI in Rhode Island,  contact a knowledgeable Providence traumatic brain injury attorney at the Kiselica Law Firm today to find out how we can help.
Resources:
cnn.com/2020/01/26/health/traumatic-brain-injuries-explain-trnd/index.html
abcnews.go.com/Politics/34-service-members-diagnosed-traumatic-brain-injuries-iran/story?id=68509042
jems.com/2020/01/21/traumatic-brain-injury-what-happens-in-the-hospital/